Bayer G4App: Dilium for Health finalist among the finalists
An Augmented Reality Solution for Health commitment.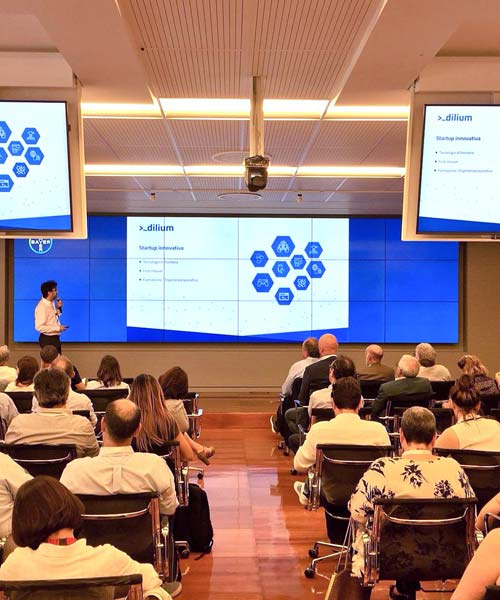 To tell about a project we often need to start from its promoters and the actors involved. To talk to you about our project we want to start from Bayer, which for years has focused its activities in the areas of Life Science, Health and Agriculture, and G4A Milan, the Italian rib of a global project that aims to promote innovation in the science of life. G4A is an international program that supports young and innovative companies with different innovations, offering them opportunities, events, financing, and acceleration programs. In essence, GrantsForApps is constantly looking for digital startups that are able to develop innovative solutions in the health field, so that they can innovate with digital technology.
This year Dilium decided to seize the opportunity offered by Bayer to develop its project linked to the world of Health, presenting itself to a network of potential investors and top managers of the company, entering an international network of contacts and initiatives.
For a startup like Dilium to be present in the second edition of the G4A, which ended with a great success of participation, It was a great opportunity. Being among 55 startup candidates and being selected to present at the Bayer headquarters in Milan during Section Day 2018, the final evening of the G4A, was a real goal. This has allowed us to get to know entrepreneurial realities that, like ours, are taking their first steps in the health sector, characterised by sudden and continuous innovations.
The idea we presented?
An Augmented Reality solution, which we wanted to call Dilium for Health, to underline our commitment to health. Through this project we can give the patient the opportunity to interact with drugs, discovering their properties, interactions, administrations and so on, offering simple, clear and ready-to-use information.