AIXA: Artificial Intelligence Expo of Applications is back
On the 6th of November dilium will participate with AR Studio in the most important Italian event on Artificial Intelligence at the MiCo Milano Convention Centre.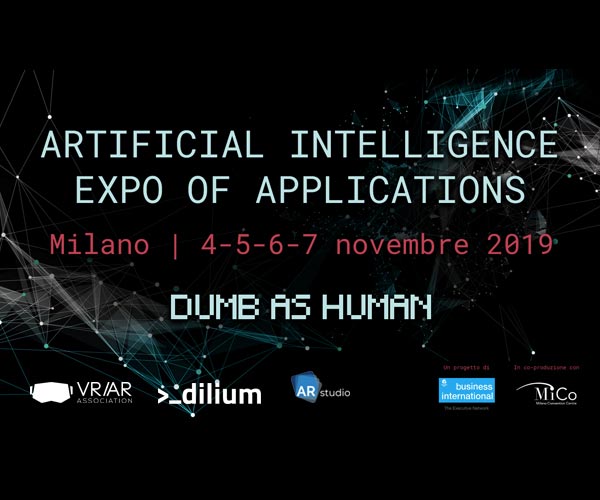 The second edition of AIXA: Artificial Intelligence Expo of Applications, promoted by Business International - division of Fiera Milano Media - and MiCo - Milano Convention Centre, will take place from 4th to 7th November 2019 and will see a full calendar of events that will range from the human-machine interaction to the application of new technologies in retail and education sectors. Dilium and AR Studio will be among the companies that will present concrete use cases within the panel "The Business Power of Augmented & Virtual Reality".
From 2.30pm to 5.30pm we will discuss the business transformations through the use of Augmented Reality and Virtual Reality with the members of the Italian chapter of VRARA. Through examples we will examine in depth how it is possible to increase the shopping experience thanks to Augmented Reality, showing the applications of the AR.Cad.IA platform developed by our partner AR Studio. To register for the event, you must purchase a ticket on the AIXA website.
According to data from a survey carried out by the Market Research Engine, the global market for Virtual and Augmented Reality is expected to exceed 117 billion dollars by 2024. The main drivers of the AR market will be those linked to the increase in demand of solutions applied to e-commerce and retail sales like the one we talked about in a previous article. In addition, the market will see increased demand for software applications and hardware devices for 3D visualization in the medical field and the growing interest of large technology companies.