Dilium and Unicoop Firenze together for an Augmented Reality app
Informatore AR is the Augmented Reality app designed to view the special contents of the Informatore Coop.fi.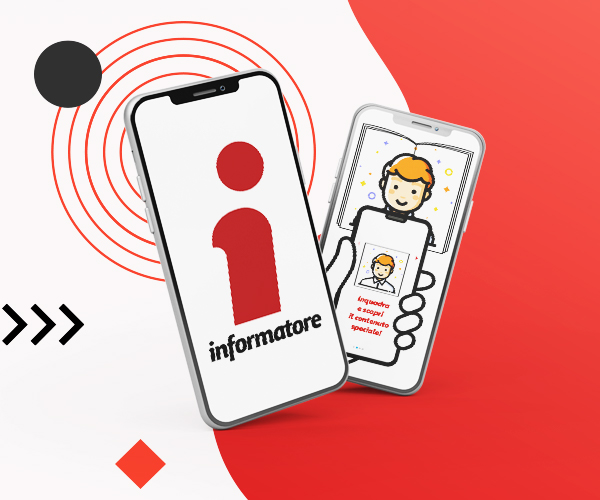 Unicoop Firenze, a consumer cooperative with over one million members, and the Museum Casa di Dante, have decided to share a path of innovation with dilium that has led to the development of the Augmented Reality App Informatore AR. The app, available in the Android and iOS stores, allows you to frame the images found in the magazine Informatore, in the Coop.fi supermarkets or within the initiatives that the cooperative carries out, such as the promotion of the territory and moments of sociality and solidarity.
The first of these initiatives, On Dante's Traces (Sulle tracce di Dante in Italian), sees the streets of the city of Florence transformed into a journey inside the Divine Comedy through seven tables designed by cartoonist Makkox. Thanks to Informatore AR, the drawings are accompanied by the distinctive voice of the actor and voice actor Francesco Pannofino, while movie with further information are curated by the historian Franco Cardini and the president of the Crusca Claudio Marazzini. Each experience is created by relying on Augmented Reality Studio, the photoshop of Augmented Reality designed by dilium to simplify the creation of AR experiences.
Just like a visual editor, Augmented Reality Studio allows you to create your own projects in a few simple clicks. The Web version provides users with templates, ready-to-use or customizable templates according to their needs, while the Pro version features a Drag & Drop interface to create fantastic experiences in complete autonomy and without constraints.
Through any browser and the flexibility of Augmented Reality Studio, companies can enrich campaigns and projects with a wide range of interactive elements: videos, animations and images, audio and sound effects, calls to action to websites, telephone numbers and e-mail addresses.
Do you want to know more about Augmented Reality Studio and our services? Visit the official website or try it for free and without obligation.