Augmented Reality Studio
The photoshop of Augmented Reality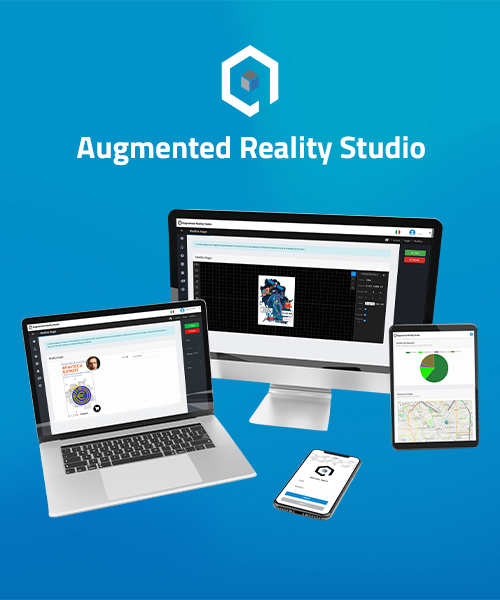 Augmented Reality Studio is a technological solution dedicated to Augmented Reality that allows you to create innovative experiences without the need for complicated technical knowledge. It does not require you to know how to program, nor does it take hours of your time to learn how it works. Thanks to the intuitive graphical interface you can develop, manage and start projects in AR in a simple and effective way. You immediately have all the means to enrich your business strategies with Augmented Reality.

Augmented Reality Studio is available immediately in its web version, as a SaaS platform supported by a solid cloud infrastructure, therefore accessible from any computer and device in compliance with the most efficient security protocols. The Web license facilitates the creation of interactive Augmented Reality experiences through the use of Templates, models designed by our team to create the selected experience in a few minutes. If the proposed Templates are not enough to give life to your ideas, we also create customized templates according to your needs.

With a Pro license you can create multi-interaction experiences for each individual target with CTA (e-mail, link, SMS and telephone numbers), videos and images by simply selecting the element you want to modify. What you see is what you get: in real time you can check all the actions done to visually manage the experiences of the various projects as if you were using a graphic editor. Ease of use is at the heart of our product, so as the functionality grows, we want you to maintain control over the creative flow of the increasingly surprising projects you will create.

Our APP

Download the Augmented Reality Studio app from the App Store or the Google Play Store and log in with your credentials to start testing a preview of your project. Interact with calls to action, videos, buttons and check that everything works exactly as you imagined. Do you want your final creations to be viewable with your branded app? We also develop white label solutions that can be customized with your logo and content. Contact us to find out more.

Why choose Augmented Reality Studio:

EASY TO USE: A clear and intuitive space where you can move in total autonomy to create Augmented Reality experiences, supported by explanatory images that illustrate all the features available.

VALUE FOR MONEY: An effective investment that lasts over time and support you in the conversion of sales and in the growth of Brand Awareness. All this thanks to a commercial offer based on your needs.

ANALYTICS: Our Analytics give you a precise idea of your audience through monthly, weekly and daily KPIs of AR experiences. You can obtain further detailed metrics such as: mobile devices used and exact geographical position of the Target scanned by users.

CUSTOMER JOURNEY: Augmented Reality Studio connects your online and offline marketing initiatives to improve speed, efficiency, personalization and reporting using advanced AR Cloud technologies.

OMNICHANNEL MARKETING BOOSTING: Thanks to Augmented Reality, each campaign can be enhanced in every single aspect along all the touchpoints of the purchase journey. Easily design, manage and distribute content created on physical or digital channels.

Companies and communication agencies are already using Augmented Reality Studio for their projects. Register for free to try it without obligation for 30 days.