What are the business opportunities in the Metaverse?
Augmented Reality, Virtual Reality and NFT: how they can help your business.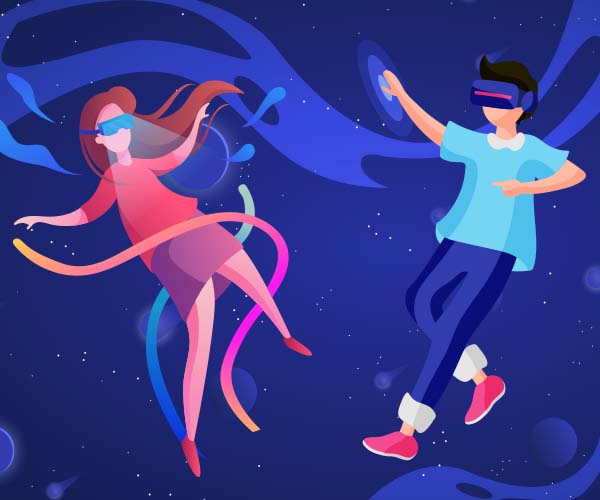 In the past Science fiction, the power of imagination and dystopian narrative on the future told us about the Metaverse, today are the tech giants that have accelerated the debate on the future of the internet. The word Metaverse is on everyone's lips, and everyone wants a piece of it. But what is the Metaverse?
You can think about it as the successor to the mobile internet [...] you can think about the metaverse as an embodied internet, where instead of just viewing content — you are in it. [...] having different experiences that you couldn't necessarily do on a 2D app or webpage. This is how Mark Zuckerberg introduced the Metaverse to The Verge's microphones.
If you thought about Ready Player One or Fortnite by reading these words, you were not the only one. Many are convinced that the Metaverse is only Virtual Reality or is a phenomenon closely related to entertainment, but it is much more than that. VR and gaming will play a fundamental part in the construction of the Metaverse, but the possibilities extend to every area of our life.
I have always believed in the ability of technological innovation to be able to bring distant worlds closer together. I have always worked with these technologies to be able to give concrete, functional and performing answers to all those companies capable of sharing a vision. This is why I believe that today, more than ever, it is necessary to understand, use and implement solutions that re-design the actions of companies in their business. Said Donato De Ieso, CEO & Co-founder of dilium.
As innovators, we should welcome the possibility of being able to create even more engaging and safe experiences for our customers, accompanying them at every point of the path that leads them from a shy interest to acquisition and loyalty.
If we place the creation of shared worlds, in which collaboration between its members is a cardinal principle, at the base of the Metaverse, then it is easy to understand how two of its most promising articulations could be in the sectors of training and remote work. According to a PwC report, by 2030, nearly 24 million workers will use Augmented Reality and Virtual Reality for training, meetings and customer service.
To make the stay in these worlds even more comfortable, further reducing the existing frictions, the new 3D spaces that give back a sense of reality, the virtual offered by increasingly performing and affordable headsets and the future evolutions of augmented reality, which aim at the integration of technology in wearable devices, could be crucial in the next years.
Today you would text a colleague, arrange a call on Zoom, or invite your contacts to Discord if you have a need at work, are looking for a solution to a problem, or need to brainstorm.
Now imagine if your friends or colleagues could materialize next to you in the form of a 3D avatar and could have access to all your information, see your screens and what you are working on. Anyone could contribute in real time just like they already do in Horizon Worlds or Horizon Workrooms.
One of the advantages of the Metaverse is its spatiality: to give that sense of presence that is lacking in the interactions mediated by computers and smartphones that the pandemic has accustomed us. This also translates into interesting opportunities for the sale of goods and services. We are already in a phase where online sales are changing to become more interactive and direct, thanks to the spread of social commerce (i.e. living the entire shopping experience directly on social media instead of on a brand's e-commerce site).
With the development of the Metaverse, the demand for virtual showrooms, virtual try-on solutions (for example the possibility of trying on clothing in AR) and branded places where consumers can interact directly with each other to increase the sense of community is also growing. Similar solutions can already be integrated into current sales channels thanks to Augmented Reality and the use of 3D.
Digital goods can also be sold in the Metaverse, as the Sotheby auction house promptly did by opening a replica of the London office in Decentraland. An art gallery in the Metaverse, but also projects that look for new business models in non-fungible tokens (NFT). Queens + Kings is a series of NFT avatars with varying degrees of rarity, whose traits are generated by an algorithm. The avatar can be customised by the collector who can also decide to buy and sell individual traits and complete avatars on OpenSea.
NFTs are unique creations exchanged and protected by a Blockchain system and brands, in addition to using them for new digital products or replicas of existing products in reality, will also be able to choose to use them to create passes or tokens that guarantee access to exclusive events or sales previews that reward the loyalty of their consumers.
Do you have an innovative project to launch in the Metaverse or do you want to make your e-commerce more interactive with Augmented Reality? In dilium we can help you make it happen. Discover our platform for AR Augmented Reality Studio, or contact us for more information on AR and VR projects.