Augmented Reality Studio at the IoThings Week 2021
On May 26th dilium presents its photoshop of Augmented Reality at the IoThings Week 2021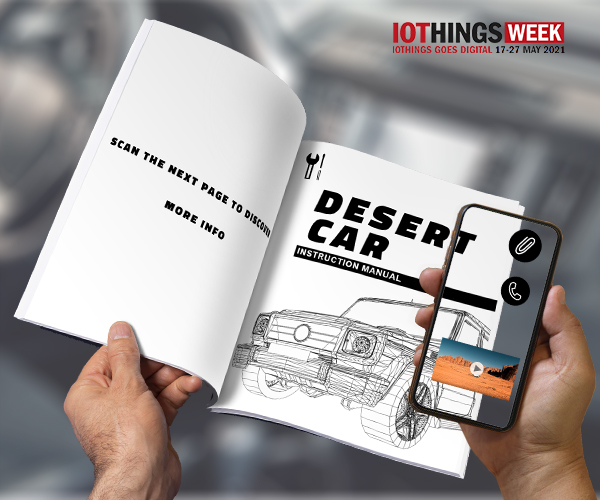 From 17 to 27 May 2021, IoThings Week will be broadcast online, a digital week dedicated to innovation technologies such as IoT, AI, Edge, 5G, AR / VR and which will include dozens of live streaming events with national and international speakers. Donato De Ieso, CEO of dilium, will participate in the webinar on May 26 on Augmented and Virtual Reality Use Cases in IoT applications organized by the VR / AR Association.
Dilium will present Augmented Reality Studio, the tool accessible from any browser to create Augmented Reality experiences in a simple and immediate way. The Web license facilitates the creation of interactive Augmented Reality experiences through the use of Templates, while with the Pro license you can create multi-interaction experiences for each individual target with CTA (e-mail, links, SMS and telephone numbers), videos and images via drag & drop. Find out more on the project page.
The full program of the day can be consulted below:
PROGRAM
11:30 Introductory greetings and opening of the proceedings by the chairman Lorenzo Montagna, Chapter President Italy, VRARA - Virtual Reality Augmented Reality Association
11:35 Spatial Computing & AR for IOT - practical examples and roadmap
Speaker: Francesco Diomede, Director of Business Development, Lanit-Tercom; Katherina Ufnarovskaia, CEO, Augmented.City
11:50 am Advanced Remote Assistance with Mixed Reality and Spatial Computing
Speaker: Matteo Valoriani, CEO, Fifthingenium
12:05 Correlation and usability of data in decision-making processes: the Metamorphosis case
Speaker: Lorenzo Cappannari, CEO & Co-Founder, AnotheReality; Claudio Martini, Keybiz
12:20 IOT and Game Design
Speaker: Carlo Fabris, Business Development, Digital Tales
12:35 Augmented Reality Studio - the photoshop of augmented reality
Speaker: Donato De Ieso, CEO & Founder, Dilium
12:50 Kiber for Industry 4.0: Maintenance and FAT using wearables solutions
Speaker: Franco Tecchia, Founder & CTO, VRMedia
13:05 Final comments
13:15 End of session
The IoThings, which has been held annually since 2002 in 2 editions (in spring in Milan and in autumn in Rome), is the most important Italian event in the field of IoT technologies promoted by Innovability, active since 2000 in the field of digital technologies, especially for M2M, the Internet of Things, Robotics, Wearable and Wireless. Discover all the appointments on the official website of the event.