Webidoo Store: the digital transformation in the customer experience
The first Experience Store of Europe has arrived in the heart of Milan and dilium is one of the promoters of digital transformation through Augmented Reality.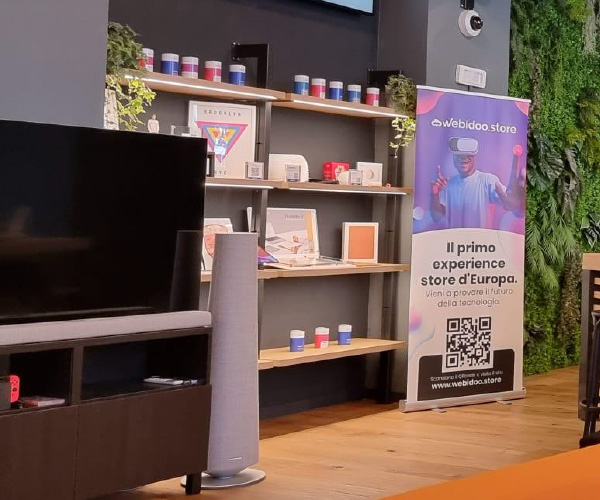 Digital transformation plays a crucial role in the customer experience: many strategic initiatives are born precisely to meet the innovation needs of companies that want to eliminate the current friction points in customer shopping experiences. The Webidoo Store embodies this philosophy by focusing on the user and the most technological brands on the market, including dilium products and solutions.
With the advent of digital and immersive technologies such as Augmented and Virtual Reality, customer expectations have changed a lot. The pandemic has only accelerated a process already underway. Today, shopping online is no longer enough for people; they want to interact with the object to make a purchase decision. In store you can try the products and you can choose to buy them directly. But if the users decide to postpone the purchase to evaluate the product online, how can you offer them a rich and interactive experience like that of the physical store?
Thanks to Augmented Reality and the 3D visualization of a product, customers can view and change the size, color and positioning of a product directly in their environment or even in a virtual showcase before purchasing it. For example, dilium created a demo experience in AR starring BenQ's GV30 portable video projector with Bluetooth speaker and additional bass. The product is also available in the Webidoo Store in Via Amerigo Vespucci 12 in Milan.
In the video inside this article, you can see the 3D object that is positioned next to its real counterpart. 3D models have the advantage of maintaining the real proportions of the object, so that the users, wherever they are, can inspect its characteristics even from home by testing the projector in different home environments.
The data highlights that companies applying digital transformation to their business create much more engaged customers:
Six times more likely to try a new product or service from their favorite brand.
Four times more likely to recommend the brand to friends, family and acquaintances.
Two times more likely to purchase a brand product, even when the competition has equivalent products at better prices.
If you want to know more about Augmented Reality contact us. To try Augmented Reality Studio for free, our platform for creating AR experiences, visit the dedicated page.