Smart & Value: the Training and Research Project on sustainability in smart working begins
Over 300 employees of 11 Italian companies will take part in the research to measure the impact of sustainability through the Smafely platform.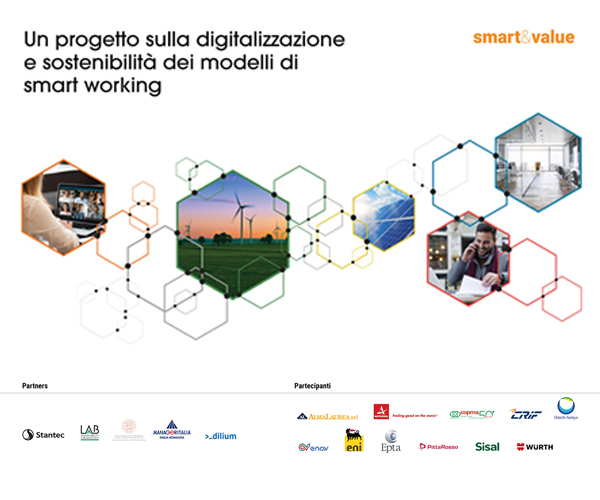 Smart & Value is the new training and research project on smart working, promoted by Stantec together with the Sustainability & Circular Economy Lab (three-year partnership between the Management Department of the University of Bologna and Manageritalia Emilia-Romagna) and the innovative startup dilium. The project was joined by 11 Italian companies belonging to various sectors: Almalaurea, Autogrill, COPMA, CRIF, Daiichi-Sankyo, Enav, Eni, Epta, Pittarosso, Sisal, Unicredit and Wuerth, for a sample of about 300 employees.

The project will last one year and will be divided into two different but connected phases. The first, from September 2021 to March 2022, provides for a period of use of the Smafely software after careful training on the digital, organizational and psycho-social aspects of flexible work. The second phase, from March to September 2022, will deepen the findings through a quantitative and qualitative survey of the Lab, conducted by a pool of researchers from the University of Bologna with the aim of obtaining general information on the relationship between remote work and sustainability. environmental, social and economic.
"The benefits of smart working for people, the environment and the company are tangible elements that we have first learned to measure on ourselves over the years", underlined the Managing Director of Stantec, Emanuela Sturniolo. "We are very happy to start this path with Dilium and with such authoritative partners as the University of Bologna and Manageritalia Emilia-Romagna and above all to share this project with the Sustainability & Circular Economy Lab which they founded together, precisely to spread the collaboration between the world of research and that of businesses. Above all, we are proud to have on board a group of companies that are particularly authoritative in their sectors and committed to the continuous improvement of their smart working programs.".

To find out more about Smafely, visit the project page, while all information on Smart & Value can be found on the official Stantec website.