dilium presents Augmented Reality Studio at the AI Week
dilium consolidates its business unit dedicated to Augmented Reality with a new proprietary tool for creating AR experiences.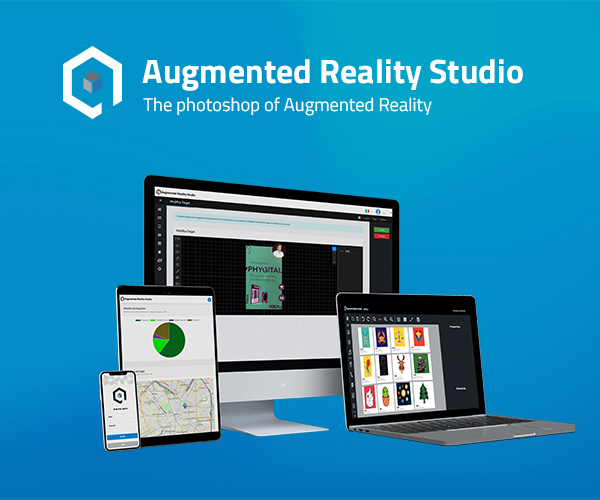 Dilium presents Augmented Reality Studio, the photoshop of Augmented Reality to develop, manage and start projects in AR in a simple and effective way. Designed to offer an advantage in terms of time and performance, it is ideal for those who pursue as objectives the improvement of work processes, the increase of sales and conversion rate, the reduction of development times, the differentiation of products and the refinement of tracking capabilities.
The tool is available immediately for use in its SaaS version, supported by the cloud. The Web License facilitates the creation of interactive Augmented Reality experiences through a simple and guided process thanks to the use of Templates. These templates are specially designed to allow you to replicate the selected design in minutes. Choose directly from your browser whether to create an experience with links to your website, enrich a target with a video or create a more complex project. Just replace the videos, images and sample links to create a unique experience.
To amaze even more and maintain creative control over the whole experience, the PRO license allows you to create your projects via Drag & Drop and without constraints and limitations in the number and type of Call to Action. Multi-interaction experiences can be created with e-mails, links, SMS, telephone numbers, videos and 3D models by simply dragging the desired element on the screen. Resize and position all elements with more precision as if you were using a graphic editor, but on your browser and without downloading additional software.
Do you want to check the effect of your AR experience? Download the Augmented Reality Studio app from the Android and iOS stores and test the preview of your projects. Log in with your credentials and check in real time what you have created. You can publish individual experiences within our existing apps such as Bellfish, Business cARd, CurriculAR or InPolitix, but if you are looking for a customized app to allow your customers to interact with your creations, we also develop AR apps in a white label version, designed ad hoc with your graphics and your texts.
In 2020, advertising in AR reached 1.41 billion dollars with the forecasts for 2024 which estimate an expenditure of 8.02 billion dollars. These figures measure the money spent on paid sponsored AR experiences on networks like Facebook and Snapchat. Thanks to Augmented Reality Studio you can use Augmented Reality in your communication activities, inside stores or in marketing campaigns. You can create, support and amplify omnichannel strategies, making them dynamic and engaging for your customers with special content and interactive games without being tied to other platforms and networks.
Discover all the benefits of Augmented Reality Studio on the project page or register for free for a 30-day trial.