How to improve online sales with Augmented Reality
Personalized calls to action and purchases directly with a tap thanks to Apple Pay.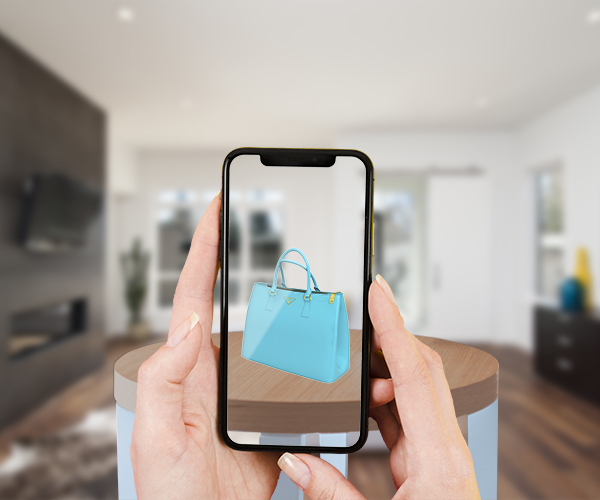 E-commerce has performed better than brick-and-mortar stores during the Pandemic, but there is always some resistance to break down when it comes to expensive or uncertain purchases made without the adequate opportunity to try out a product before adding it to a cart. Being able to convey the quality of a product without direct in-store testing can be a challenge for many brands, however concrete help can come from a scalable and cost-effective technology such as Augmented Reality.
By projecting virtual objects into the real world, the consumer can try furnishing accessories, bags, clothes and choose the right shade of foundation or be informed about the operation or maintenance of an appliance. When most people tend to search for products online before making a purchase and the percentage of consumers shopping through their smartphones is growing, offering a shopping experience more tailored to customer needs becomes essential. From a PwC research, it emerges that, following the effects of Covid-19, more purchases have begun via mobile phone and many of the interviewees stated that they intend to continue using the smartphone even after the lifting of the isolation measures.
Intercepting these buying behaviors with Augmented Reality experiences is easier than one is mistakenly led to believe. You don't need expensive devices or specific apps to turn your virtual store into an interactive showcase. Augmented Reality is also accessible via browser, as we presented in our previous article. A demonstration can also be found in the Who We Are section of our website by interacting with the team photos. Through Web AR, the user is no longer forced to download apps, stop browsing and / or return to the product page.
With the help of Apple technology, users can purchase the objects displayed in AR using Apple Pay directly on the Augmented Reality experience screen. Managers can alternatively customize the purchase button to direct users to their store or add Call to Action to other sections of the website. In this way there is no fragmentation in the action initiated by the customer and the advantages are plenty:
Support in purchasing decision
Offering a higher service with positive repercussions for brand perception
Increase in conversions
Increase of interactions with the brand and loyalty
At dilium we always like to imagine new ways to integrate technology into everyday life, starting with making it easier for people to shop, verify the authenticity of products or give a touch of uniqueness to your brand.
To give you an idea of ​​the potential of this solution, we have crafted a demo that shows the integration of Apple Pay in an Augmented Reality experience. We used a 3D object depicting a colorful sculpture and linked the button to a purchase action (the button really works but the sum indicated in the banner will not be subtracted from your account). Each element is customizable: the banner can also be used to land users at your e-shop with messages and colors in line with your brand.
We can do everything you have seen and experienced: we create customized AR experiences with banners and calls to action in line with your needs. Contact us to find out more or discover our projects.