dilium participates in the Match-Making Day for ICC for InnovaMusei Call Get it!
The startup presents the Interactive Digital Museum in front of the representatives of the participating Lombard museums and the partners of the initiative.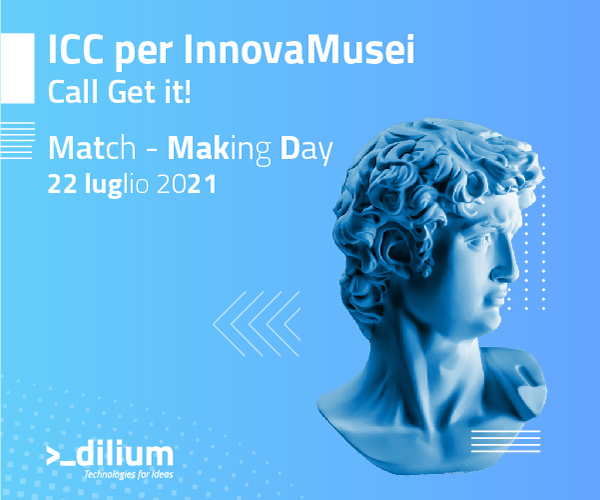 July 22 is Match-Making day! After taking part from May to July in an enhancement path with sector experts from Cariplo Factory and the partners of the ICC initiative for InnovaMusei Call Get it !, the time has come to present the MID Augmented Reality project, our Interactive Digital Museum.
The Interactive Digital Museum makes use of all the flexibility of Augmented Reality Studio, the tool designed by dilium to make the creation of Augmented Reality experiences simple and immediate, usable even without having advanced computer skills. By browsing from your browser, you can add a wide range of interactive elements to your experiences and projects: videos, images, audio files, calls to action to website, social profiles, phone and email addresses. Find out how Unicoop Firenze and the Museum Casa di Dante brought Augmented Reality to the streets of Florence.
The event will be broadcast in live streaming on the Facebook and LinkedIn profiles of Cariplo Factory and is part of the InnovaMusei initiative generated on the impulse of the Cariplo Foundation, the Lombardy Region and Unioncamere Lombardia, with the collaboration of Cariplo Factory, promoted by the Social Venture Foundation Giordano Dell'Amore, with the support of Digital Innovation Observatory in Cultural Heritage and Activities, Tiresia, Common ground Srl, BBS Lombard, LIVELLO SETTE and the contribution of IBM.
Stay up to date on the uses of Augmented Reality and consult all the museum and artistic case histories that we have created.