ARPA Meteo Lombardia
See from the screen of your smartphone what the weather will be like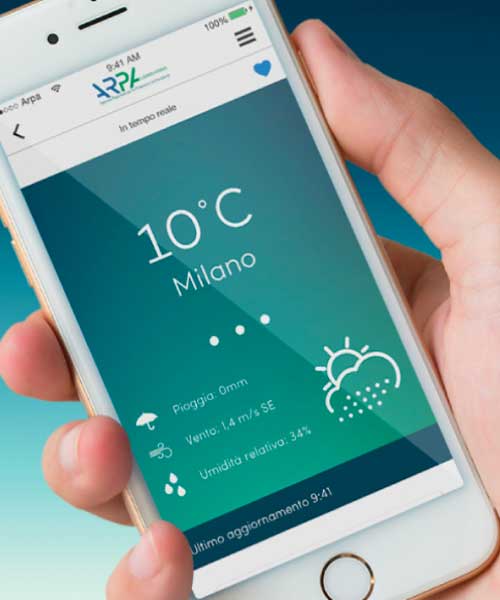 ARPA Meteo Lombardia is an app created by dilium, commissioned by the CHEIL agency of Milan. Data and weather forecasts are presented in real time and with an appealing graphic design. The reliability and accuracy of the information are guaranteed by the Regional Meteorological Service of Lombardy.

The Regional Meteorological Service, active in Arpa Lombardia since 1st January 2004, has a meteorological monitoring network consisting of around 250 automatic stations. The structure can provide a public service of meteorological information relating to the Lombard territory for the benefit of the citizen and the Civil Protection; it is also linked to agrometeorology, environment, health, decision support, resource management, and the production sector.

The app let users view the meteorological forecasts of Lombardy and perform a meteorological monitoring thanks to a network of automatic measurement stations operating in real time and remote sensing tools. ARPA Meteo Lombardy is a useful meteorological assistance agency in support of the regional Civil Protection alert system, acts as a Meteorological Competence Center of the Centro Funzionale Monitoraggio Rischi for the prevention of natural risk and for the management of environmental emergencies.

The application expands research and development in the context of national and international projects, processes and archives meteorological and climatological data. It's used by ALP FFIRS: Alpine Forest Fire Warning System, SCIA National system for the collection, processing and diffusion of Climatological Data of Environmental Interest, ARCIS Climatological Archive for Northern Italy.

Features:


Measure weather data in real time.
The weather forecasts for the Lombardy provinces are represented by time slots, ensuring greater precision.
The Lombardy weather report is produced daily by ARPA meteorologists, from Monday to Saturday.
The bulletin of the ultraviolet radiation index is prepared daily, while the heat discomfort, called Humidex, is prepared daily from June 1 to September 15.